Dieffenbachia Camille
6" Pot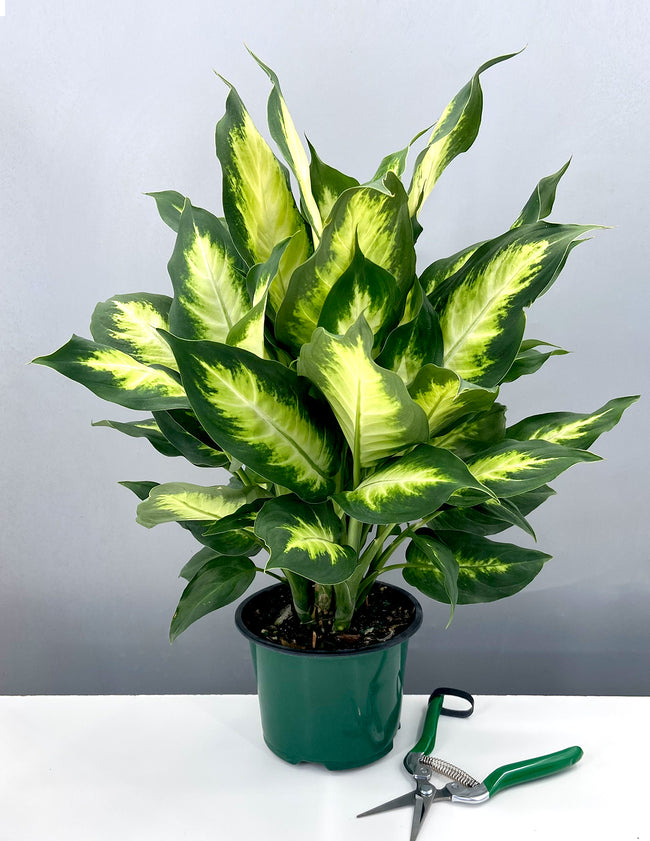 Care
Light
Dieffenbachia prefer moderate indirect light to thrive. They can survive in lower light, however growth will be slowed. They should not be placed in direct sun, as their leaves will burn.
Water
Dieffenbachia Sterling should be grown in moist yet well-draining soil, and should be allowed to dry in between waterings. Yellowing leaves and root rot are signs of overwatering, while wilting and dry, crispy leaves are signs of underwatering.
Care
Dieffenbachia are easy to care for. They thrive in warmth and high humidity, but will also tolerate normal household humidity levels. If the soft, cane-like stems grow too tall, they can always be cut back and rooted to create new plants if desired. This plant should be fertilized monthly through the spring and summer, with a diluted general houseplant fertilizer.
---
Purify
Based on a NASA® study, these are the known contaminants this plant will filter from your home's air.
Formaldehyde is found in OSB, plywood, MDF, and particle board. Formaldehyde can be found in furniture like desks, bookshelves, beds, kitchen cabinets, and more.
Toluene is found in paints, lacquers, thinners, glues, correction fluid and nail polish remover, and is used in the printing and leather tanning processes.
Xylene is found in cleaning agents, paint thinners, and varnishes.
Reviews